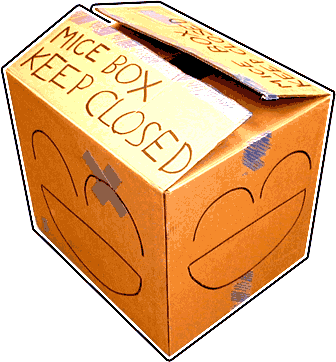 Home
This little site contains tools and toys to help with simple tasks. I have named it Happy Box because I can, plus I'm cool like that... Anyway, play around, do whatever.
About
The real Happy Box is a box (approx. size: 58cm x 48cm x 53cm) I used for holding my wild field mice while I would clean their cage. I left somebody to watch them to prevent them from chewing through the box while I was away. I no longer have mice, they all died from old age. I do not have any plans to get new mice, even if I find any.
I got the idea to build this site from when I drew the grinning faces on all four sides. I knew it would be used as the logo, but I didn't know what it was going to be about. It came to me to build a site with my little PHP "toys" that I build to make my life a little easier. I figured, "If it can help me, why not others?" So here it is.
I add to it whenever I need to build something that will save me time or effort. I also have things that are just for fun, like the text colorizer. If you have any ideas for additions or updates, please email me at tools at zavaboy dot com with the details.
Page Information
Times are in EDT.
| | | | |
| --- | --- | --- | --- |
| Page | Last Accessed | Last Modified | Created |
| Home | now | Tue, Aug 19, 2008 4:42:15 PM | Thu, Oct 5, 2006 4:30:09 AM |
| Password Generator | 5h, 17s ago. | Wed, Feb 3, 2010 12:38:32 PM | Tue, Oct 3, 2006 5:50:25 AM |
| ASCII/Binary | 3d, 11h, 18m, 13s ago. | Sun, Feb 10, 2013 9:53:59 PM | Thu, Oct 5, 2006 3:01:02 AM |
| URL Code | 2d, 1h, 37m, 15s ago. | Wed, Jan 10, 2007 11:19:10 PM | Tue, Jan 9, 2007 12:35:32 AM |
| Text Rotator | 3d, 11h, 18m, 5s ago. | Sun, Oct 19, 2008 2:14:48 PM | Sat, Oct 7, 2006 12:04:41 PM |
| PNG Text Manager | 2d, 23h, 49m, 36s ago. | Mon, Mar 29, 2010 10:56:57 AM | Mon, Mar 30, 2009 4:32:28 PM |